The Northern Lights in Lapland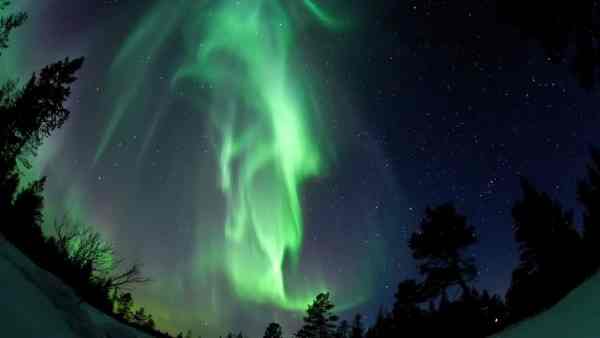 No-one really knows where Santa lives, but you are most likely to find him in Lapland in December if he's anywhere.
But where is Lapland? It's got that mystery surrounding it.
Just head north! Lapland is the northerly region in Finland - an area bordering Sweden, Norway, Russia and the Baltic Sea.
It has a low population (probably something to do with the climate) and it's famous for its wild vistas, its skiing and the Northern Lights. The sun never sets here in the summer.
You need to head to the capital Rovaniemi first and then explore from there.
Finland's indigenous Sami people live near the northern Lake Inari. Only 3.4% of Finland's population live in Lapland (and Finland's population in 2013 was around 5 and a half million.)
This makes Lapland the least densely populated area in Finland, with a population of just under 200,000, the size of a small Chinese town. The population is in decline as people head to the cities.
Tourism is crucial to the local economy, and people looking for Santa at Christmas make up a big proportion of those travellers.
Things to Do in Lapland
Here's a list of "Must Do's" if you are heading for Lapland.
If you are looking for a Winter Wonderland, Finnish Lapland is as close as it gets, but this Northern wilderness is also worth visiting in the summer months (although you probably won't see Santa, he prefers it down in the Southern Hemisphere during July and August.)
Rovaniemi is the capital and where you'll find Santa Claus in December. It's on the Arctic Circle, and is a great place to start your trip. It's the "Official Hometown" of Santa Claus.
The Northern Lights are a sight that everyone should experience at least once in their lives. Otherwise known as the Aurora Borealis. Lapland is one of the top places on Earth to spot this phenomenon – they show up on more than 200 nights a year. You can combine the Northern Lights spotting with snowshoeing, cross-country skiing or snowmobile and sled dog touring.
The Land of the Midnight Sun- another thing you need to see in life is the sun at midnight. There's no excuse not to party! In the summer Lapland enjoys 24 hour days for almost 3 months. Hike up the beautiful fells or hang out at the Midnight Sun Film Festival in Sodankylä.
If you are into skiing, why head to the Alps or the Rockies like everyone else? There's lots of downhill from easy greens to scary blacks, and plenty of snow parks to explore. From late October to early May- quite a long season! The skiing season hits top gear in December, when the Polar Night starts. There's great skiing in artificial light.
And if you prefer a furry ride, Lapland offers hounds and Santa's reindeer as well.
Did you know that the Arctic Circle Post Office receives more than half a million letters every year addressed to Santa from all over the world. That's what he's doing for the rest of the year!